Cipriano Sans Rival : 50 years of Cake Perfection
Not so long ago, I received a message from my former colleague K asking me if I'm game to try her Lolo (grandfather)'s sans rival. Of course, I don't say no to cake more so when it's sans rival! This is probably one of my favorite cakes as I just love anything nutty, nougat-y and the butter frosting totally beats regular cream frostings any day.
What I just recently learned though is that this particular sans rival has a story that dates back to 50 years ago.
Cipriano Sans Rival
(Php. 850) is the recipe of K's grandfather and it's the kind that has been perfected over time. This is definitely not the mass-produced kind. Instead, K's grandfather has been making his sans rival for most of their family gatherings. Each layer carefully crafted, the frosting with its intricate fork design and that generous amount of nuts sprinkled on top to cover any flaws and at the same time works double time to complete your sans rival experience. Today, my friend K has perfected the same sans rival recipe after multiple rounds of trial and error. This is definitely one amazing family tradition worth continuing and I'm glad that the next generation will be able to enjoy this thanks to K.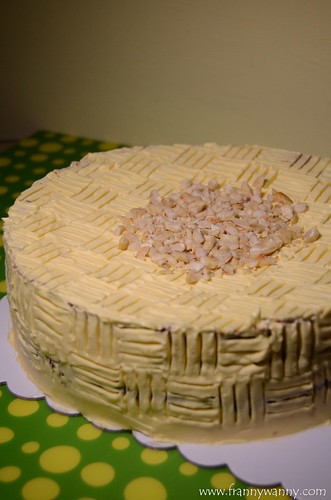 I was so excited then K told me that she will be delivering the cake and I was literally squealing with joy when it finally arrived at our doorstep. Of course, I have to wait a couple of hours more as I wanted to enjoy my first slice of cake with the entire family too. Talk about a true test of one's patience!
Finally, it was time to make that first slice and as I had my first bite, I knew it was worth all the wait. In fact, let me be bold here in saying that this is the
best sans rival that I've ever had
. I love the chewy, nutty meringue layers which were separated by a thin spread of butting frosting. Outside, it's covered with more butter frosting but what makes it so amazing is that the sweetness level was just right. It's not the kind that would make you feel too filled up
(umay)
after a few bites. In fact, it has a very addicting factor that will make you want more, more and more!
It's the perfect cake to have for your next family gathering or it will definitely make for a great gift too given the beautiful, white cake box. If you ask me though, it's the kind that I'd love to have in my fridge regularly whenever the craving comes about. Oh, I'm now craving for more of
Cipriano Sans Rival
while typing this.
Luckily, ordering is a breeze. Simply message them at
Facebook
or drop them a call at +63-917-583-6833.