Truly Italian at Sopra Cucina in Claymore Road
A few weeks ago, our dear friends Ro and Peter were in town. Of course, Paul and I wasted no time in meeting up with them and that means being able to share a good meal with our friends whom we missed so much. Days leading up to our dinner date, I research on possible places where we can take them to. I immediately ruled out Chinese/Singaporean food as they might have quite a lot of that already. Then I thought of the kids. That's when I decided to focus on pizza and pasta = Italian food.
That's when I came across
Sopra Cucina
at the Ground Floor of
Pan Pacific Orchard
. This restaurant specializes in Sardinian cuisine which comes from a province in Italy called Sardinia. I remembered
my first taste of Sardinian cuisine not so long ago
where I was able to try
fregola
for the very first time. It was an interesting cross of pasta and rice which is normally cooked in rich tomato-based sauce.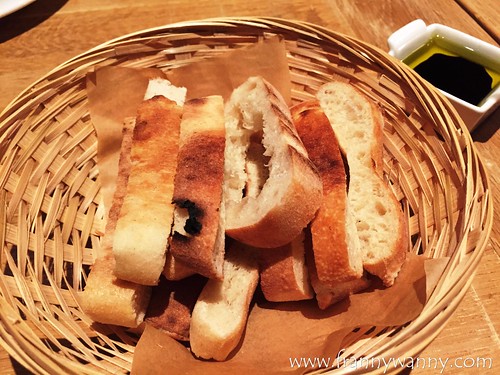 We were a big group that evening where the kids had their own table and we adults got our own too. Our meal began with a basket of complimentary bread. I love crusty bread where you get a balanced texture of crunchy crust and a soft, pillowy dough inside. The best way to enjoy this is to dip it in a balsamic vinegar-olive oil mixture.
First on our list was the
Fettucine with Truffles and Porcini
(S$24) which I was so excited to try. As you know, I'm a sucker for anything and everything with truffle oil. The pasta was so al dente and the creamy sauce was just right. I love how we get a good hint of truffle aroma in every forkful. This instantly became our table's favorite and it was pretty obvious why. :)
Next, we tried the
Fregola al Fruitti de Mare
(S$28). To be honest, this is not a very wise choice when dining with a big group as the serving was quite small. I think each of us just had a little more than a spoonful making the whole experience a bit anti-climatic given that it was all of my dining companion's first time to try fregola. Will make sure to order more next time.
Of course, what's an Italian meal without pizza, right? We tried the
Norvegese
(S$29/ 14") which was a delicious hand-tossed pizza topped with smoked salmon, cream and mozzarella cheese. The dough was really chewy with a good crispy bite here and there. I was impressed at how generous they were with the smoked salmon slices that we all managed to have a big piece in every slice. Yummy!
As you may have noticed, it was very carb-heavy dinner that we just had to balance it out with meat right? To appease the men in the table, we got the
Tagliata di Manzo
. Imagine thick slices of grilled beef tenderloin served with arugula, cherry tomatoes and shaved parmesan cheese. Imagine the steak melting in your mouth! It was so good that this platter was immediately wiped out in no time.
Since most of the servings were quite small, we agreed to get another pasta dish. This time, we went for the
Fettucine al Ragu
(S$23) which is a classic Italian dish. It's closely similar with the famous Bolognese only it's served with a richer tomato sauce. This is the perfect example of what can be simple yet truly satisfying. Indeed, the best things in life need not be complicated.
We had a great time at
Sopra Cucina
! It was fun catching up with Ro and Peter and we're really glad that they took the time out to meet up with us despite their really hectic schedule. One good thing about Sopra Cucina is it's also part of
The Entertainer App
's list of merchants so we were able to enjoy all these for only half the price!
Check out Sopra Cucina at 10 Claymore Road (Pan Pacific Orchard), Singapore. Call them at 6737-3253 to make a reservation.